GRAPHICS ASUS TUF RTX3080-10G-V2- GAMING(90YV0FB5-M0NM00)
GRAPHICS ASUS TUF RTX3080-10G-V2- GAMING(90YV0FB5-M0NM00)
/shop/gc-asus-tuf-90yv0fb5-m0nm00-graphics-asus-tuf-rtx3080-10g-v2-gaming-90yv0fb5-m0nm00-6810
(6mths Warranty on Mining)
TUF Gaming GeForce RTX™ 3080 V2 10GB GDDR6X with LHR offers a buffed-up design that delivers chart-topping thermal performance.
NVIDIA Ampere Streaming Multiprocessors: The building blocks for the world's fastest, most efficient GPU, the all-new Ampere SM brings 2X the FP32 throughput and improved power efficiency.
2nd Generation RT Cores: Experience 2X the throughput of 1st gen RT Cores, plus concurrent RT and shading for a whole new level of ray tracing performance.
3rd Generation Tensor Cores: Get up to 2X the throughput with structural sparsity and advanced AI algorithms such as DLSS. Now with support for up to 8K resolution, these cores deliver a massive boost in game performance and all-new AI capabilities.
This GeForce RTX 3080 graphics card with LHR (lite hash rate) delivers 43 MH/s ETH hash rate (est.).
Axial-tech Fan Design has been newly tuned with a reversed central fan direction for less turbulence.
Dual Ball Fan Bearings can last up to twice as long as sleeve bearing designs.
Military-grade Capacitors and other TUF components enhance durability and performance.
GPU Tweak II provides intuitive performance tweaking, thermal controls, and system monitoring.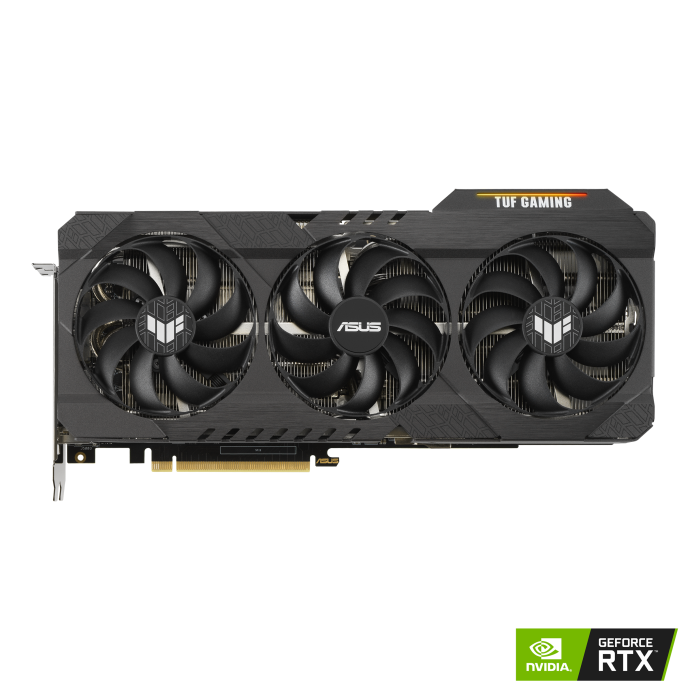 HEATSINK
2.7-SLOT DESIGN
The heat spreader draws heat up into heat pipes that carry it through a fin stack that fills most of the card's large, 2.7-slot footprint. This generation of TUF Gaming graphics cards also feature a dedicated heatsink for VRAM to keep temperatures well under maximum operating specs.
VRAM HEATSINK
TUF COMPONENTS
Components are selected for TUF Gaming graphics cards based on their durability and performance. In addition to top-shelf chokes and MOSFETs, capacitors that meet military-grade certification make the TUF stand tall amongst the competition. The components are soldered to the PCB using our advanced Auto-Extreme automated manufacturing process. Smooth joints on the rear of the PCB and the elimination of human errors ensure each graphics card meets our rigorous specifications. Finally, to ensure flawless performance when it counts, the cards are subjected to a grueling 144-hour validation trial.
DESIGN
FRESH SHROUD
An all-aluminum shroud adds robust protection to TUF Gaming graphics cards and a no-nonsense industrial design and grayscale colorway fits into any build with ease.
Stainless Steel Bracket

Dual BIOS

GPU Bracket

Vented Backplate
DESIGN
IT'S COOLER OUT BACK
The underside of the card reveals a host of improvements. Most of the rear is swathed in a protective metal backplate that prominently features a wide vent. The vent allows hot air to escape towards chassis exhaust fans instead of being recycled back into the GPU cooler. Beneath the GPU, a bracket provides consistent mounting pressure between the die and heat spreader. Stainless steel is used for the I/O bracket to protect ports and provide a more secure mount. A conveniently placed Dual Bios switch allows customization of the card's default performance profile without software.


GRAPHICS ASUS TUF RTX3080-10G-V2- GAMING(90YV0FB5-M0NM00)
Rs 

61,900.00
61900.0
MUR
Rs 

61,900.00
Rs 

99,999.00